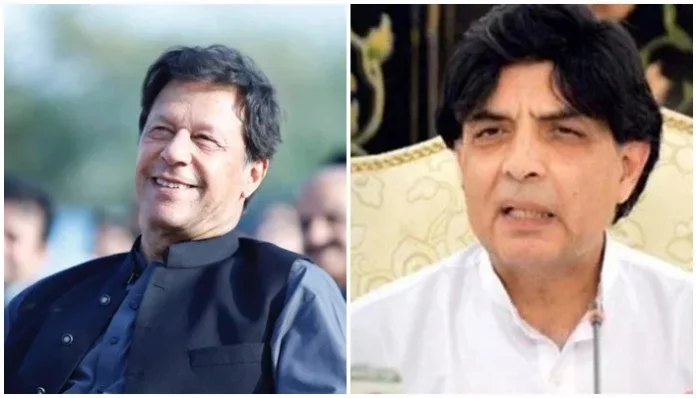 As the Opposition filed a no-confidence motion against Prime Minister Imran Khan to oust him from the office, the premier has increased his interaction with government allies in a bid to have them by his side.
On Wednesday, the premier revealed that had a meeting with the estranged PML-N leader Chaudhry Nisar, adding that he has had an association with him for the last 40 years.
"We often hold meetings," the premier said, adding that Nisar will be "taking all political decisions himself."
While the premier's latest statement shows that he and Nisar share a congenial political relationship, a video of the premier from 2012 says otherwise.
In the throwback video, PM Imran Khan could be seen addressing his party members regarding an upcoming jalsa at Rawalpindi's Liaqat National Park and using some inappropriate words in an apparent reference to the former interior minister.
"I am particularly interested in this jalsa because there is a firoun (Pharoah) living in Rawalpindi," he said. "This firoun is trying to get hold of the petroleum ministry for the third time."
It should be recalled that during former prime minister Nawaz Sharif's first and second terms, Nisar had held the cabinet portfolio of the petroleum and natural resources minister. During the tenure of PPP's Yousaf Raza Gillani, Nisar had briefly served as the food, agriculture and livestock minister with the additional portfolio of communications minister.
He went on to say that the "Pharoah" wants to appoint his patwaris and his thanaydaars to the ministry so that he could continue with his tyranny.
"It would be extremely rewarding for us to remove this Pharoah," PM Imran Khan had said at that time. "I will be utterly pleased to have him removed.