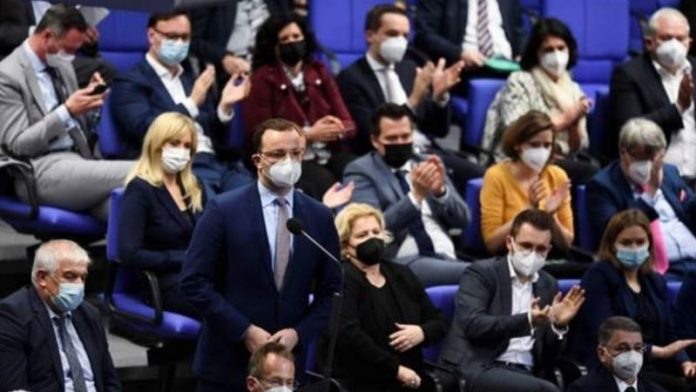 International flights
Flight service to and from Karachi, Lahore and Islamabad with connecting flights to Germany may change at short notice due to high safety Standards in order to prevent further COVID-19 infections.
To enter Pakistan, travellers are obliged to install the COVID-19 app PassTrack on their smart phone or register online for PassTrack. Travellers have to proof the registration to the respective airline during check-in. In case of website Registration a printed copy of the registration is required.
All international travelers from Germany to Pakistan will require a mandatory negative COVID-19 RT-PCR test that has to be taken within 72 hours of the travel date. Passengers tested postive will not be allowed to travel.
Information on entry requirements for Pakistan
All passengers have to be prepared for medical checks upon arrival. More details can be found at the website of the Pakistani Ministry of National Health Services.
Temporary travel restrictions to the EU
In line with EU decisions, Germany introduced travel restrictions for entries from outside the Schengen area on 17 March 2020. All corresponding entries from non-EU-citizens and citizens of non-Schengen states by plane or ship are affected.
Please check the current information on entry restrictions, testing and quarantine regulations here.
As of June 25, 2021, entry from Pakistan to Germany will be possible for persons fully vaccinated with vaccines against the SARS-CoV-2 coronavirus approved by the European Medicines Agency (EMA). Fully vaccinated travelers will then also be able to re-enter Germany for visits and tourist entries.
Starting from 02/08/2021 fully vaccinated applicants can apply for the necessary Schengen visas at the German Embassy Islamabad and the German Consulate General Karachi.
Appointments will be offered in advance via the online appointment system of the German missions in Pakistan.
Only persons who have been vaccinated with one of the vaccines listed on the website of the Paul Ehrlich Institute (PEI) and whose last required vaccination was administered at least 14 days ago can enter Germany. This currently applies solely to vaccines approved by the European Medicines Agency (EMA).
-Comirnaty/BioNTech (2 doses)
-Covid 19 Vaccine Moderna/ Moderna (2 doses)
-Vaxzevria/ AstraZeneca (2 doses) or
-Covid 19 Vaccine Janssen/Janssen-Cilag (1 dose)
An extension to other vaccines with a comparable standard of protection is planned as soon as the necessary tests have been completed. At the moment there is no exception for booster shots of the above-mentioned vaccines.
Further information and requirements about the vaccination certificate can be found in the following document
For applicants who are not yet vaccinated against Covid-19 entry to Germany is only possible in exceptional cases and if they have an urgent need to travel. In this regard please refer to the website of the German Federal Ministry of the Interior, Building and Community (homepage article "Coronavirus: Frequently Asked Questions", under "Travel restriction/border Control.
Holders of multiple entry Schengen visa which are still valid are allowed to travel to Germany from 25.06.2021 onwards, if they are fully vaccinated with one or more of the vaccines listed online by the Paul-Ehrlich-Institut. Please check the list of approved vaccines here. The last required vaccination must have been administered at least 14 before entering Germany.
You will be informed immediately on this website when this situation changes.

For German passport applications please contact: [email protected] (Islamabad) or [email protected] (Karachi).
Quarantine
Please find more information on German self-isolation and quarantine regulations here.
Inquiries for the embassy
You may contact the German Embassy Islamabad via email to [email protected]
We try to update this website as soon as possible. However, given the current rapidly changing situation delay might be possible. Therefore please also follow the news