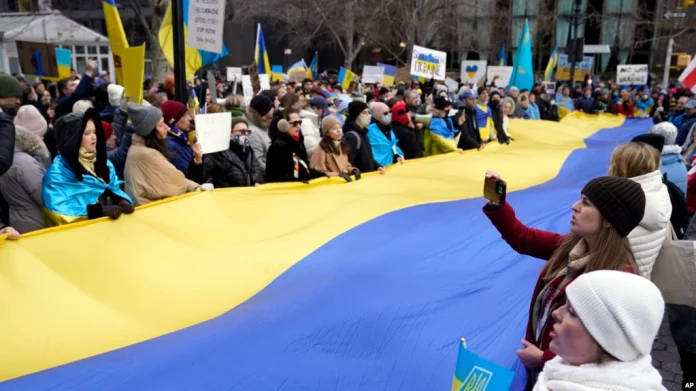 The U.S. and allies on Saturday attempted to slam the brakes on Russia's economy and banking systems by expelling selected Russian banks from the global bank-to-bank payment system known as SWIFT, the next step in a series of increasing sanctions punishing President Vladimir Putin for his unprovoked invasion of Ukraine.
"Putin's government is getting kicked off the international financial system," a senior Biden administration official told reporters on Saturday. "To be clear, this is a sad outcome for the people of Ukraine, the people of Russia and many others. This is not where we want it to be. But this is Putin's war of choice, and only Putin can decide how much more cost he is willing to bear—the United States and our allies and partners are unified and will continue to impose costs."
The decision to remove the Russian institutions from SWIFT was announced in concert with the European Commission, Britain, Canada, France, Germany and Italy. In a Saturday statement, the group of allies warned that a list of five moves aim to "hold Russia to account and collectively ensure that this war is a strategic failure for Putin."
"As Russian forces unleash their assault on Kyiv and other Ukrainian cities, we are resolved to continue imposing costs on Russia that will further isolate Russia from the international financial system and our economies, the group said in a statement. "We will implement these measures within the coming days.
The allies also pledged four other moves, they are: leveling "restrictive measures that will prevent the Russian Central Bank from deploying its international reserves"; taking steps to limit the issuance of foreign passports to wealthy Russians; launching a transatlantic task force that will, among other things, target the wealth of Russian officials and elites. And finally, the group pledged to "step up our coordination against disinformation and other forms of hybrid warfare."
The administration official said the de-SWIFTING of Russian banks, which the White House had been resisting for days, will be felt immediately in Moscow. And, he said, Washington is prepared to escalate further if Moscow does.
"What we're committing to do here is to disarm the central bank," he said. "And the way we can do that, for example, is by preventing U.S., EU, U.K. persons from selling rubles to the Central Bank of Russia. That means very simply, the Russian Central Bank can't support the ruble—full stop—and that means our sanctions will have much greater force. There are other measures too we can take against the central bank, and you'll be hearing more about that later."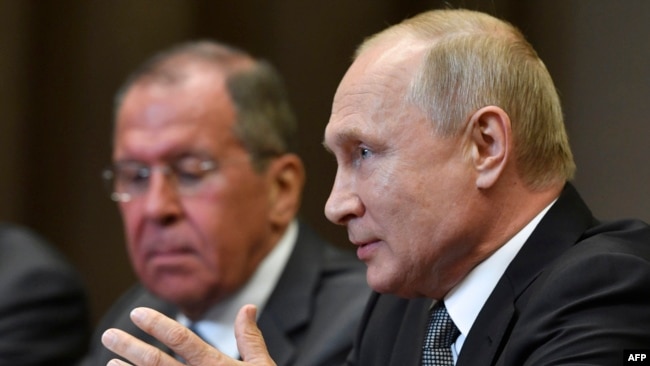 Sanctions to date
The United States announced Friday that it would freeze the assets of Russian President Vladimir Putin and Russian Foreign Minister Sergey Lavrov, following similar steps taken by the European Union and Britain, as nations around the world sought to tighten sanctions against Russia's government over its invasion of Ukraine.
Britain's government took the same action Friday, with Foreign Secretary Liz Truss writing on Twitter, "We will not stop inflicting economic pain on the Kremlin until Ukrainian sovereignty is restored."
White House press secretary Jen Psaki said the move by the U.S., the European Union and Britain sends "a clear message about the strength of the opposition to the actions" by Putin.
A Russian foreign ministry spokeswoman, Maria Zakharova, said the sanctions against Putin and Lavrov reflect the West's "absolute impotence" when it comes to foreign policy, according to the RIA news agency.
World leaders are rarely the target of direct sanctions. The only other leaders currently under EU sanctions are Belarus President Alexander Lukashenko and Syrian President Bashar al-Assad, according to Agence France-Presse.
The EU sanctions against Putin and Lavrov are part of a broader sanctions package that targets Russian banks, oil refineries and Russia's defense industry.
EU leaders agreed, however, it was premature to impose a travel ban on Putin and Lavrov because negotiating channels need to be kept open.
Russia responds
In response to the sanctions, Russia has taken its own measures, including banning British flights over its territory, after Britain imposed a similar ban on Aeroflot flights.
The United States and several allies had imposed a first tranche of sanctions Tuesday, after Putin declared the disputed eastern Ukraine regions of Luhansk and Donetsk as independent states, much as he appropriated Ukraine's Crimean Peninsula in 2014.
President Biden added another round of sanctions on Russia Thursday, hours after Russia began its invasion of Ukraine, declaring at the White House after meeting virtually with leaders of the G-7 nations and NATO that "Putin chose this war, and now he and his country will bear the consequences."
NATO allies, including Britain and the European Union, also imposed more sanctions Thursday, and the effects were felt almost immediately when global security prices plunged and commodity prices surged. Biden acknowledged that Americans would see higher gasoline prices.
Some information in this report came from The Associated Press, Agence France-Presse and Reuters.