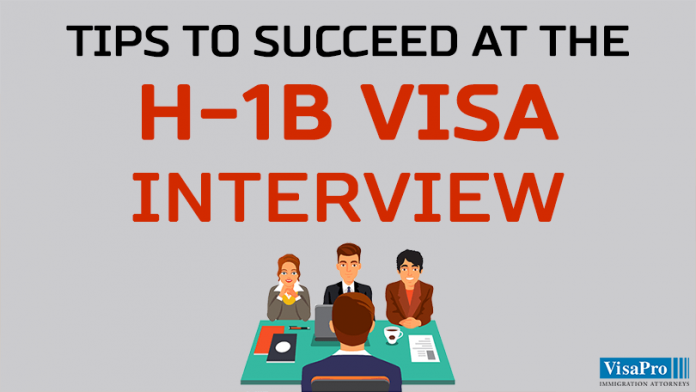 You are searching for H1B visa interview questions, it shows that you have almost completed the process of H1B visa and finally going for an interview. Don't be worry, you can easily complete this final step indeed with some preparation. We have given some most commonly asked questions here. These are some general questions, some will be related to your qualification and H1B company background.
You have to prepare their answers according to your biodata. You don't need to be memorized H1B visa interview questions and answers. Simply try to line up the information, already stored in your mind. Some most commonly asked visa questions are given below for your convenience.
Most Commonly Asked H1B Visa Questions
The Embassy officials have divided the H1B visa interview questions into three parts.
General Questions
Qualification and Experience Questions
Sponsoring Company Background Questions
General H1B Visa Interview Questions
In this part of the H1B Visa Interview Questions, the Visa officers try to know about your intent. You have to answer all the questions with full confidence. Don't try to be over-smart, explain everything in a simple way. Read these questions carefully and prepare the answers.
Why have you chosen the United States for work?
Is any of your relatives or friends live in the US?
Have you any travel history before?
Have you ever applied for any visa?
In which state you are going?
Do you know the living cost in that state?
Who will financially support you during the first month?
Are you married and what's your plan for your family?
What do you think about second marriage in the US?
Would you try to settle in the US or prefer to return?
When will you return?
Qualification and Experience Related Questions
This section of H1B Visa interview questions is related to your educational qualification and work experience. You have to express yourself during answering the questions of visa officers. They may ask such type of questions;
What is your field of interest? In which subject have you completed your degree?
From which university you got it?
Have you done any research projects during your studies?
Did you do an internship during the course?
Have you done any additional certification related to your field?
What is your experience?
Can you describe your last job in few sentences?
Why you have to leave it?
What was your last salary?
What the company has written about your behavior in the experience letter?
Have you gotten a relevant job in the US?
Sponsoring Company Background Questions
The embassy officials also try to know about the US company that is hiring you during the H1B visa interview questions. They will assess either that was a genuine company or a fake arrangement to get a US visa. So get sufficient information about the company before appearing in the interview. The officials may ask such type of questions;
What you know about the company providing you a job?
How did you find out about this company?
How you remained successful in getting this job?
Can you tell us about the panel that conducted your interview?
Does this company sponsor other foreign workers?
In which position you have to work there?
Can you explain your job description as mentioned in the job agreement?
What will be the salary and what's about your accommodation?
Have you any information about the financial position of the company?
What will happen if you failed to adjust there?
Friends, these are the frequently asked H1B visa interview questions. You should prepare yourself according to your field. Read your job agreement several times and also collect information from online sources about your employer.
This H1B visa interview may be 30 minutes long, however, the embassy official may send you back after asking only 4 to 5 questions. The thing which matters is their satisfaction. You have to prove yourself the right man for the right job. On the other hand, the interview panel will try to investigate the reality of the company that is hiring you. Anyways, good luck with your new career in the United States.