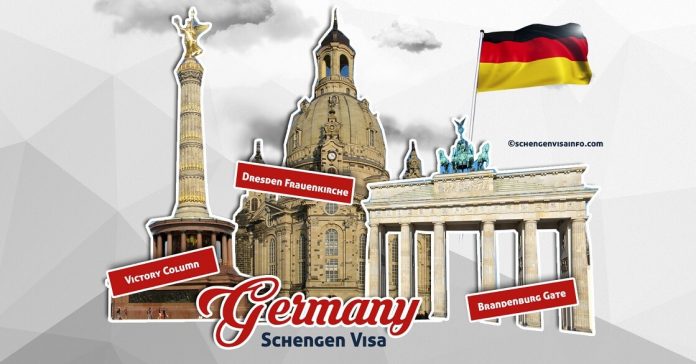 The Western European country of Germany is a beautiful tourist destination attracting millions of visitors every year. With its rich history, majestic castles, and picturesque landscapes, Germany has become one of the most attractive tourist destinations worldwide.
In addition, depending on where you come from, there are certain procedures you need to go through in order to enter and visit Germany. So if you are planning to enter Germany for a short period of time as a tourist or a visitor, you will need a German short-stay visa, also known as a tourist or visitor visa.
Let's go through everything you need to know about the German tourist/visitor visa requirements and application process
Do I Need a Visa to Enter Germany as a Tourist/Visitor?
Since Germany is a member state of the Schengen Area, it allows nationals of 62 countries to enter Germany for touristic purposes without the need to obtain a visa. The residents of these countries are allowed to reside in Germany for a period of 90 days within 6 months, visa-free.
On the other hand, if you are a citizen of the country listed below, you will need a tourist/visitor short-stay visa to enter Germany.
| | | |
| --- | --- | --- |
| Afghanistan | Gabon | Oman |
| Algeria | Gambia | Pakistan |
| Angola | Ghana | Papua New Guinea |
| Armenia | Guinea | Palestinian Authority |
| Azerbaijan | Guinea-Bissau | Philippines |
| Bahrain | Guyana | Qatar |
| Bangladesh | Haiti | Russia |
| Belarus | India | Rwanda |
| Belize | Indonesia | Sao Tome And Principe |
| Benin | Iran | Saudi Arabia |
| Bhutan | Iraq | Senegal |
| Bolivia | Jamaica | Sierra Leone |
| Botswana | Jordan | Somalia |
| Burkina Faso | Kazakhstan | South Africa |
| Burma/Myanmar | Kenya | South Sudan |
| Burundi | Kosovo | Sri Lanka |
| Cambodia | Kuwait | Sudan |
| Cameroon | Kyrgyzstan | Suriname |
| Cape Verde | Laos | Swaziland |
| Central African Republic | Lebanon | Syria |
| Chad | Lesotho | Tajikistan |
| China | Liberia | Tanzania |
| Comoros | Libya | Thailand |
| Congo | Madagascar | Timor-Leste |
| Cote D'ivoire | Malawi | Togo |
| Cuba | Maldives | Tonga |
| Dem. Rep. Of Congo | Mali | Tunisia |
| Djibouti | Mauritania | Turkey |
| Dominican Republic | Mongolia | Turkmenistan |
| Ecuador | Morocco | Uganda |
| Egypt | Mozambique | Uzbekistan |
| Equatorial Guinea | Namibia | Vietnam |
| Eritrea | Nepal | Yemen |
| Ethiopia | Niger | Zambia |
| Fiji | Nigeria | Zimbabwe |
| North Korea | Northern Mariana's | |
Note: In case you are a citizen of more than one nationality, the visa requirements will depend on the passport you choose to travel with. If the passport you choose to travel with requires a mandatory visa, you will have to obtain one according to the requirements.
What Are the Requirements to Apply for a Tourist/Visitor Visa to Germany?
German authorities follow certain (strict) rules and requirements when it comes to issuing a visa. Subsequently, it is important to be aware of all the requirements before submitting an application.
Here are the required documents you need to apply for a visitor/tourist visa to Germany:
Visa application form. Fully completed with the correct information, printed and signed at the end.
Two recent photos. Taken within the last three months, in compliance with the Schengen visa photo criteria.
Valid passport. No older than ten years and with a minimum validity of three months beyond your planned stay in Schengen. It must have at least two blank pages in order to be able to affix the visa sticker.
Roundtrip reservation or itinerary. A document that includes dates and flight numbers specifying entry and exit from the Schengen area. Find out how to get a flight reservation for a tourist visa application.
Travel Health Insurance. Evidence that you have purchased health insurance that covers medical emergencies with a minimum of €30,000, for your whole period of stay. The insurance policy can easily be purchased online from Europ Assistance, AXA Schengen or DR-WALTER. Travel insurance policies issued by all of these companies are accepted by German embassies/consulates worldwide. 
Proof of accommodation. Evidence that shows where you will be staying throughout your time in Schengen. This could be a:

Hotel/hostel booking. With name, complete address, phone and e-mail, for the entire time you will be in the Schengen area. (Check Booking.com or HotelsCombined to find cheap hotels in Germany!)
Rent agreement. If you have rented a place, in the country you will be staying.

Letter of tour organizer. If you will be travelling with a tour agency.
Proof of financial means. Evidence that shows you have enough money to support yourself throughout your stay in Schengen. This could be a:

Bank account statement.
Sponsorship Letter. When another person will be financially sponsoring your trip to the Schengen Zone. It is also often called an Affidavit of Support.
A combination of both.

Invitation letter from your host in Germany with a copy of their passport and/or residence permit for Germany
Proof of relationship with the host residing in Germany.
Verpflichtungserklärung. In case your host will be covering all your expenses, they need to sign this document, also known as a letter of commitment. The form can be obtained from the German immigration authorities at the place of residence of your host, whose solvency will be verified by these authorities.
Evidence of employment status.

If employed:

Employment contract,
Leave permission from the employer
Income Tax Return

If self-employed:

A copy of your business license,
Company's bank statement of the latest 6 months
Income Tax Return (ITR)

If a student:

Travel Itinerary. A description of your trip to Europe, your purpose of travelling, which places are you going to visit in Europe, the time frame and all the personal data.
For Minors:

Either birth certificate/proof of adoption/custody decree if parents are divorced / death certificate of the parent.
Letter of consent from parents, including passport copies of both parents/ legal guardian
How to Apply for the Germany Tourist/Visitor Visa?
To apply for the Germany tourist/visitor visa, simply follow the steps listed below:
Initially, keep in mind to apply early. At least 3 weeks before your travel date.
Locate the nearest German embassy/consulate in your country. This is where you should go to set up an appointment. If there is no German embassy/consulate in your country, you should locate the German embassy in a neighbouring country. Depending on the embassy, you may also set up an appointment online.
Fill in the application form with precision and sincerity. Print two copies and sign both of them.
Pay the visa fee and take the payment confirmation with you.
Make sure you have all the necessary documents before submitting the application.
Prepare for the interview by searching online for common questions asked in such cases. Additionally, make sure you are on time, not too late and not too early either.
What's the processing time for the German tourist/visitor visa?
The processing time for the German tourist/visitor visa highly depends on the application centre and their workload at the time. Generally, the waiting time around the world for a Schengen visitor/tourist visa is two weeks, but one can never be too sure, that is why it is important to apply as early as possible.
In some cases, the waiting time for the German tourist/visitor visa is 30 days, but depending on different circumstances, it may take up to 60 calendar days. As said, it largely depends on the workload.
When should I apply for the German tourist/visitor visa?
It is advised that you apply as early as possible. Up until recently, you could submit an application 3 months prior to your travel date. However, according to the new Schengen visa rules, you can now submit an application 6 months before you're set to travel.
How much is the German tourist/visitor visa fee?
The German tourist/visitor visa fee is €80 for adults. Children aged 6-12 are required to pay €40. Nationals of countries that have visa-facilitation agreements with the EU will have to pay €35.
Note: The Schengen visa fee is subject to change at any time and if your visa application gets rejected, your money will not get reimbursed.
How long is the German tourist/visitor visa valid for?
The short-stay Schengen visa is generally valid for a maximum of 90 days within six months. The validity of your visa, on the other hand, depends on the embassy that issued the visa.
The time period you're allowed to stay in the Schengen area is written in your visa sticker, glued to your passport. You can get more details on how to read a visa sticker here.
Other Types of Visas for Germany
Related information